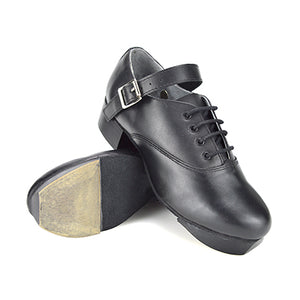 Essential Jig Shoe
The Essential jig shoe is our new jig shoe for beginners and intermediate dancers.
It has a supportive black suede sole and Shaped Leinster heels for easier heel clicks.
The Essential sole is more flexible than our leather sole Superflexi, but thanks to a slightly thicker suede sole than our Ultraflexi range, it offers good support to newer dancers.
They come fitted with Leinster tips and Shaped Leinster heels.
The Shaped Leinster heels are a new innovation and offer newer dancers the opportunity to dance with a heel which has a curved inner side to make heel clicks much easier to perform!
They are the same shape as our more expensive Concorde heel and will make the transition to more advanced jig shoes easier when the time comes for the dancer to advance to Open and Championship level jig shoes.
The Essential jig shoe offers dancers a high-quality jig shoe at a fantastic price!